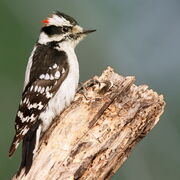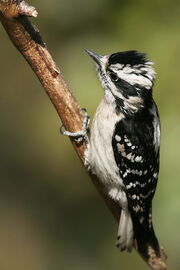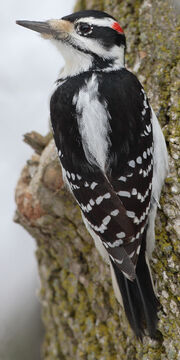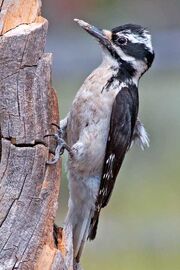 These two birds are both black and white while the males have a small red nape patch while females don't have this.[1] They both have a white back which helps to ID them from other woodpeckers;[2] while other woodpeckers have white rumps or white bars on the back, Hairy and Downy are the only woodpeckers in North America with a white back.[3]
While they are both found in the United States and Canada, Hairy is found all the way to Panama.[3]
Description
A small, short-billed woodpecker,[1] like a small version of the Hairy;[3] with proportionately large head and short broad neck.[1] Bill less than ½ depth of head.[1][4] Outer tail feathers generally have faint bars or spots.[2]
Behaviour
The call is softer and higher-pitched[2] and not as wild sounding than Hairy's;[5] has a flat pick!, not as sharp as the Hairy's peek!.[3]
Description
Medium-sized woodpecker with a long bill that is usually more than ½ depth of head;[1][4] its bill is exaggerated compared with the Downy's little bill.[3] If size is difficult to judge, the Hairy's bill is larger and more robust.[4] They have a thinner body, more oblong head, defined neck, longer bill and proportionately smaller nasal tufts than the Downy.[1] The outer tail feathers are generally white,[2] they generally lack the black spots along the tail[6] and have a longer and more distinct black mark on the shoulder.[7] Black bars can be found on Hairys found in the Pacific race and birds found in Newfoundland.[8]
Behaviour
The peek call is much louder than the Downy's;[5] a kingfisher-like rattle, run together more than the call of the Downy; note the sharp peek!.[3] Has a larger, more oval-shaped cavity than the Downy.[6]
References
Community content is available under
CC-BY-SA
unless otherwise noted.