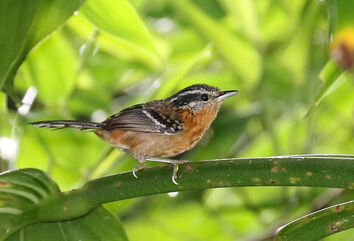 Other names
Drymophila Ferruginea.
Description
Similar species
Long-winged Antwren.
Behavior
Diet
Most of their diet consists of insects found on the ground, making it an insectivore. It follows the insect and waits until the insect is right where it wants it, then flies over to it and eats it when least expected.
Calls
The cries and sounds they make are average tweets and chirps, like the ones you may hear outside your bedroom window or at the park.
Reproduction
Almost all antbirds lay two eggs at a time, including the Ferruginous Antbird. To lay 3 eggs is very rare. The time taken for chicks to hatch is 14–16 days.
Distribution/habitat
The Ferruginous Antbird is found north of the Amazon Basin and east of the Rio Negro in Venezuela, Guyana, Suriname, French Guiana and Brazil. They can be found in Evergreen forests. They have a peculiar habit of walking on the floor. They are usually found in groups on the floor.
References
External links
Projects
| | |
| --- | --- |
| | This article is part of Project Aves, a All Birds project that aims to write comprehensive articles on each bird, including made-up species. |
| | |
| --- | --- |
| | This article is part of Project Passeriformes, a All Birds project that aims to write comprehensive articles on each passerine, including made-up species. |
| | |
| --- | --- |
| | This article is part of Project Thamnophilidae, a All Birds project that aims to write comprehensive articles on each antbird, including made-up species. |