Other namesEdit
Scientiphic name: corvus cornix.
DescriptionEdit
It has the same dimensions of the Carrion Crow. It has a light gray body plumage with black head, throat, wings and tail. The bill is very heavy and black. The legs are black, too.
Similar speciesEdit
Carrion Crow, Eurasian Magpie, Common Raven, Eurasian Jackdaw.
BehaviourEdit
Like all the corvids, the Hooded Crow is very intelligent. They are often seen in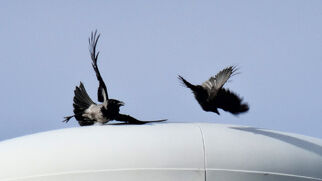 flocks, sometimes mixed with Carrion Crows.
This bird is omnivore. It eats small rodents and lizards, worms, insects, eggs and chicks stolen from other birds' nests, seeds, carrion, berries and fruit.
the call is a gruff, loud kraah, krahh, kraah, the flight call is a queruleous kreew, kreew.
ReproductionEdit
The Hooded Crow nests in May and makes a big nest on a tree using twigs. There it lays about five blue eggs mottled with brown. The chicks are nidiculous.
Distribution/habitatEdit
ReferencesEdit
External linksEdit
Projects
| | |
| --- | --- |
| | This article is part of Project Aves, a All Birds project that aims to write comprehensive articles on each bird, including made-up species. |
| | |
| --- | --- |
| | This article is part of Project Passeriformes, a All Birds project that aims to write comprehensive articles on each passerine, including made-up species. |
| | |
| --- | --- |
| | This article is part of Project Corvidae, a All Birds project that aims to write comprehensive articles on each corvid, including made-up species. |