Killdeer, Charadrius vociferus is a species of plover in the Charadriinae subfamily. It is closely related to the Common Ringed Plover. There are three subspecies.
Click for etymology
---
Charadrius is from Late Latin charadrius yellowish bird mentioned in the Vulgate Bible (late 4th century) < Greek χαραδριος kharadrios unknown plain-coloured nocturnal bird that dwelt in ravines and river valleys < χαραδρα kharadra ravine;[3] vociferus is from Latin vociferus clamorous, noisy < vociferari to shout < vox, vocis voice, cry, sound; ferre to bear.[4]
Description

The Killdeer is a large plover, at 9–11 inches (23–28 cm).[5] It is distinctively marked with two breast bands,[2][5][6][7][8] young only have one band.[2] Sexes similar, but female tends to have browner mask and breast bands.[9]
Fairly long black tail, with a buffy-orange rump. The bill black and legs are flesh-coloured. The forehead, eye-stripe, collar on hindneck and underparts white.[5] In flight, it shows a tawny rump.[7]
Non-breeding adult has rufous and buffish brown fringes to upperparts.[9] Juveniles are like dull non-breeding adults.[9]
Race ternominatus smaller, paler and greyer; peruvianus also smaller than nominate, and has more extensive rufous feather fringes.[9]
Similar species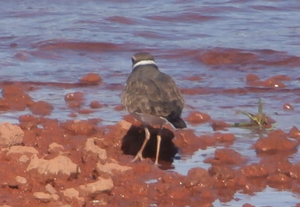 It is larger than the other ringed plovers, and easily distinguished by its two black bands.[2][5][6]
Similar to Semipalmated Plover, but is larger and white below.[2] A downy young Killdeer has one breast band and might be identified as a Wilson's Plovers by overeager birders.[6]
Behaviour
Generally found in as scattered individuals or small groups.[5] Seldom found in large flocks, but sometimes up to fifty.[2] It is stable and has adapted well to human encroachment.[6]
Diet
Insects, mainly beetles and flies, also grasshoppers, crickets, caterpillars, dragonflies, etc.; millipedes, worms, snails, spiders, crustaceans and some seeds.[9]
Calls

The Killdeer is quite vocal. Calls include several strident nasal piping notes, such as "deee", "tyeeee" or "kil-deee" (hence its name), repeated.[9] When it's agitated, several notes given in more rapid sequence such as "keee-di-di-di" or longer trilled series.[9] In its display flight, a continuously repeated similar-sounding "kil-deer" or "kee-deeyu".[9] In alarm utters a long fast trill, "trrrrrrrrr".[9]
Reproduction
May feign injury near its nest to distract intruders,[8] or fly into the faces of livestock.[2]
Distribution/habitat
It is common in fields and pastures,
[8] grassy or plowed fields[7] and golf courses,[5] often far from water[5][8] but may be found in marshy fields.[7]
In the United States[9] It is found Alabama, Alaska, Arizona, Arkansas, California, Colorado, Connecticut, Delaware, Florida, Georgia Idaho, Illinois, Indiana, Iowa, Kansas, Kentucky, Louisiana, Maine, Maryland, Massachusetts, Michigan, Minnesota, Mississippi, Missouri, Montana, Nebraska, Nevada, New Hampshire, New Jersey, New Mexico, New York, North Carolina, North Dakota, Ohio, Oklahoma, Oregon, Pennsylvania, Rhode Island, South Carolina, South Dakota, Tennessee, Texas, Utah, Vermont, Virginia, Washington DC, Washington State, West Virginia, Wisconsin and Wyoming.
In Canada[9] It is found in Alberta, British Columbia, Manitoba, New Brunswick, Newfoundland and Labrador, Northwest Territories, Nova Scotia, Nunavut, Ontario, Prince Edward Island, Quebec, Saskatchewan, and Yukon. It is also found in Saint Pierre and Miquelon.
In Middle America[9] Northern and Southern Mexico, Belize, Costa Rica, El Salvador, Honduras, Nicaragua and Panama.
In the Caribbean[9] Anguilla, Antigua and Barbuda, Bahamas, Barbados, Bermuda, Cayman Islands, Cuba, Dominica, Dominican Republic, Guadeloupe, Guatemala, Haiti, Jamaica, Montserrat, Netherlands Antilles, Puerto Rico, Saint Barthélemy, Trinidad and Tobago, Turks and Caicos Islands and the Virgin Islands.
In South America[9] It is found in Chile, Colombia, Ecuador and Peru.
It is a vagrant to the Azores, France[real world]/Devonshire[alt. univ.], Galapagos Islands, Great Britain, Greenland, Grenada, Hawaiian Islands, Hungary, Iceland, Ireland, Madeira Islands, Martinique, Netherlands, Norway, Portugal, Romania, Russia, Saint Kitts and Nevis, Saint Lucia, Saint Vincent and the Grenadines, Spain, Switzerland, Venezuela.[9]
References
External links
Projects
| | |
| --- | --- |
| | This article is part of Project Aves, a All Birds project that aims to write comprehensive articles on each bird, including made-up species. |
| | |
| --- | --- |
| | This article is part of Project Charadriiformes, a All Birds project that aims to write comprehensive articles on each charadriiform, including made-up species. |
| | |
| --- | --- |
| | This article is part of Project Charadriidae, a All Birds project that aims to write comprehensive articles on each plover, including made-up species. |
Community content is available under
CC-BY-SA
unless otherwise noted.