Taxonomic list of Passeriformes families
This list is in taxonomic order, placing related species/groups next to each other. The Passerida subdivisions are updated as needed from the default sequence of the Handbook of the Birds of the World,[1] based on the most modern and comprehensive studies.[2]
Suborder Acanthisitti
Eupasseres
Suborder Tyranni
The suborder Tyranni are also called suboscines.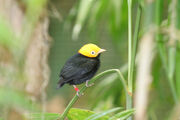 New World suboscines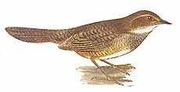 Passeri
The most ancient true songbirds, endemic to Australia. Considered to be a suborder on the TiF checklist..
A group of two families endemic to Australasia.
The massive multigene analysis of Aggerbeck et al. (2014) finds them to be sisters, albeit fairly deeply separated. They split off before the division between the Corvida and Passerida, which means they are in the paracorvids.[3]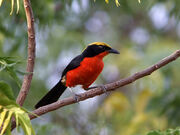 A highly diverse group of global distribution, but most plentiful in the Australasian region and surroundings. The oldest truly globally successful group of passerines, they include among them what may well be the most intelligent and the most spectacular of the order.
Infraorder Passerida
Mostly insectivores, distribution centered on the
Indo-Pacific
region. Few occur in the Australian region and fewer still in the Americas. Usually sleek and drab birds, few have pronounced
sexual dimorphism
.
"Nicatoridae-Panuridae-Alaudidae"
"Macrosphenidae"
"Acrocephalus group"
"Swallows, Bulbuls"
"Hyliidae, Aegithalidae, Cettiidae, and Phylloscopidae"
"Babblers and allies"
Mostly insectivores, near-global distribution centered on Old World tropics. One family endemic to Americas. Nearly absent (except introductions) from the Australian region. Usually rather stocky for their size, most are quite dark and dull though Sturnidae are commonly iridescent and/or colorful. Sexual dimorphism often absent, sometimes pronounced.
"Oxpeckers, Starlings, Mockingbirds"
"Dippers, Thrushes, Old World flycatchers"
Mostly herbivores including many seed-eaters, near-global distribution centered on Palearctic and Americas. Includes the Nine-primaried oscines (probably a subclade). A very high proportion of colorful and highly sexually dimorphic forms.
"Basal Passeroidea"
"Core Passeroidea"
"Estrildid clade"
"Passerid clade"
"Sibley and Monroe's Fringillidae"
Sibley and Monroe's (1990) Fringillidae included all of the remaining birds, over 1000 of them. Most authors use a finely-grained family structure for these species that roughly corresponds to Sibley and Monroe's tribes. The TIF taxonomy divides Sibley and Monroe's Fringillidae into 11.[7]
Epifamily Icteroidea
"Buntings and Sparrows"
"Blackbirds and Warblers"
"Thraupid group"
References
Footnotes
Community content is available under
CC-BY-SA
unless otherwise noted.