Spanish Sparrow, Passer hispaniolensis is a species of sparrow found in Europe, Asia and North Africa. Forms a superspecies with House Sparrow, P. domesticus and Italian Sparrow, P. italiae, and the three sometimes considered conspecific.[2]
Click for other names
Other common names
Willow Sparrow
Description
Hybridises with the House Sparrow to form the Italian Sparrow, which is classed as a separate species.[3][4]
Similar species
-Italian Sparrow -House sparrow -Eurasian Tree-Sparrow
Behaviour
Gregarious and thermophil bird, often seen in small flocks.
Diet
This sparrow's bill is heavier than the House Sparrow's, infact it can break bigger seeds. It also eats insects and berries, and feeds the chicks with insects.
Calls
Similar to the House sparrow's and to the Italian Sparrow's, but have a more metallic tone.
Reproduction
It nests in bushes.
Distribution/habitat
This sparrow is a typical Mediterranean species, found in North Africa, South Italy,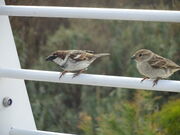 some Greek regions, Spain, Malta and some Middle East areas.In some zones, it forms hybrids with Italian Sparrows. It is found in small towns and zones whith Mediterranean maquis plants.
References
External links
Projects
| | |
| --- | --- |
| | This article is part of Project Aves, a All Birds project that aims to write comprehensive articles on each bird, including made-up species. |
| | |
| --- | --- |
| | This article is part of Project Passeriformes, a All Birds project that aims to write comprehensive articles on each passerine, including made-up species. |
| | |
| --- | --- |
| | This article is part of Project Passeridae, a All Birds project that aims to write comprehensive articles on each Old World sparrow, including made-up species. |