Welcome to All Birds!
We have 15,442 articles since February 5, 2011

...the wiki about science that anyone can edit.

68,724 Total Edits • 5,072 Images • 6 Active Administrators • Forum
This site is best viewed with ad blocker, with Google Chrome or Mozilla Firefox.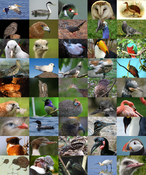 A bird is a feathered, winged, bipedal, warm-blooded, egg-laying vertebrate. As of June 7, 2016, the are 10,841 species, not including many prehistoric and made-up species. Look around, you may see a bird outside your window!

Show your support! Please like!

If you like what I do, please consider donating to my Patreon or buying my book, Spottail's Death.

About | Categories | Wiki tutorial | User List | Top users | Help pages | Recent Changes
Community content is available under
CC-BY-SA
unless otherwise noted.